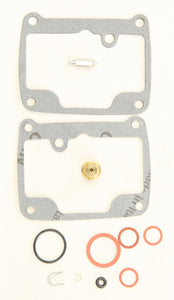 SPI brand carburetor service kit for Mikuni VM34 and VM34 Powerjet
Photo is of actual contents.
Contains: Bowl Gasket (2), Needle & Seat, Gaskets, O-rings
NOTE: Some Trailfire VM34 carbs use the VM30 style needle & seat and bowl gasket, in which case this kit will not work.  Please check your carb to see which style needle & seat it has. 
Genuine Mikuni Kits are also available for PowerJet Here