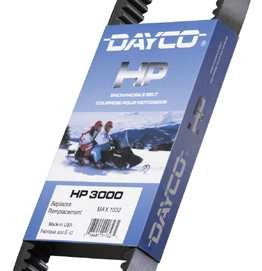 DAYCO HP3012 Drive Belt
Application:
1976 - 1978 Liquifire/Cyclone/Liquidator
1978-1979 Spitfire (Serial Number up to 95,000
All Sportfire, Trailfire
Kawasaki:
1982 Drifter
1982 Interceptor
1977-1978 Intriguer 440
1977-1982 Intruder
1977-1982 Invader
1979-1981 LTD
DAYCO HP Drive Belts
*Notable strength and tensioning suits lower horsepower machines.
*Added flexibility of the new double cog design runs cooler and lasts longer.
*Meets exacting tolerances, using only the best rubber compounds and tough ARAMAX® cord.
*Expect longer life on virtually all machines.