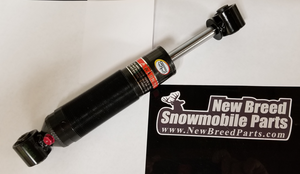 Aftermarket SPI Gas Shock Absorber
Dimensions: OPEN:10-1/4" CLOSED: 7-1/8" TOP ID: 3/8" BOTTOM ID: 3/8"
This shock will fit John Deere snowmobile skis with the following changes:
This shock is designed to be used in a Polaris suspension so it has threads and retainers for a coil-over shock. The retainers can be un-screwed and removed.
The orignal shock bolts do not fit in the eye, however an M10 bolt will fit and is only slightly smaller then the stock bolts.
Your ski may require spacers on the top and possibly the bottom of the shock, depending on what version of the ski you have.