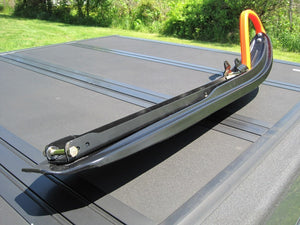 Pair of heavy duty steel black powdercoated leaf spring mounts designed to work with SLP SLT or Powder Pro skis
Use with skis other then SLP SLT or springs other then John Deere may require modification.  Also confirmed to fit 2" wide Kawasaki springs (Invader, Intruder, etc. but will not fit LTD/Invader).  
Ski/Spring/Shock in photo not included.
Our leaf spring insulator sets will work with this bracket.
Shocks are also available if your leaf has an upper shock mount
Note: We used to sell a complete kit, however the ski components are no longer available from our supplier.  They are available to be purchased elsewhere.