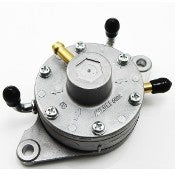 Genuine Mikuni DF52 Dual Outlet Fuel pump - surface mount style
Replaces original fuel pump on 1980+ Liquifires and all dual-carb Kawasakis, however does not have the original built-in check valve, so using an inline fuel shut-off valve is reccomended.  We carry both a straight in-line valve, as well as a right angle surface-mount valve that was added to Liquifires/Sportfires/Trailfires and can be installed just above the right foot rest for access without opening the hood.  
Also fits the bracket on the intake manifold on '76-'78 Liquifires.