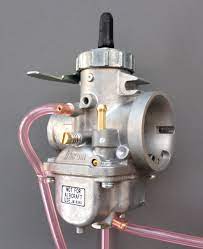 Brand new Mikuni VM30-164.  Great carb for swapping out Mikuni butterfly carb found on 80-82 John Deere Spitfire.  For 1978-79 Kohler powered Spitfires, see kit HERE
Free Mikuni branded Main and Pilot jets provided. (Snowfire Kawasaki Spec)
Customer specified jetting available free of charge as well.  
(Stock photo attached)
In addition to carb, VM style choke and throttle cable will also need to be installed.  
VM Carb Choke Cable - See HERE
VM Carb Throttle Cable - See HERE
Please message us with any questions regarding kit.  Kit is sold with the assumption engine is mechanically sound.