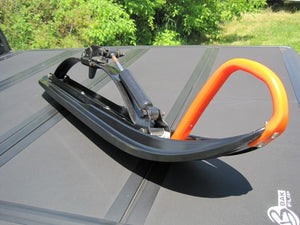 This kit includes everything you need to install a pair of modern plastic skis on your John Deere or other brand* snowmobile with 26" leaf springs**.  This kit is a direct bolt-on for 1980+ Liquiire, Trailire, or Sportire. 
The benefits of using a plastic ski include better handling, less darting, more control, and availability of new parts.
These kits have been tested & run in the USXC Racing I500 Vintage Class.
The stock kit comes in black skis with black loops, but contact us to check availability of other colors (special order)
Kit includes:
Pair of SLP (Starting Line Products) SLT (Straight Line Tracking) Black Ski Bottoms
Pair of SLP Black Ski Loops 
Pair of SLP carbide wear bars (4", 6.25", or 9.5")
Pair of steel black powder coated leaf spring mounts
Ski Pins
Ski Isolator Wear Pads 
Ski Spindle Bushing Kit.
As a new option, you can add and delete components.  Please let us know so you can receive a credit.  
4" carbide utilizes two studs for attachment.  6" and 9" utilize three.  
The spring and shock shown in photo are not included.
*Use with springs other then John Deere may require modification.
*Some models may require shock mount modifications. 
This is the SLP offical description of the SLT Ski bottoms:

The SLTâ"¢ (Straight Line Trackingâ"¢) Ski is made of high quality UHMW plastic for a super strong, durable, wear resistant ski that is extremely slippery and remains flexible even in severe cold conditions. Its patented rocker keel design places more forward weight directly below the spindles for increased keel penetration and better bite in the turns. It results in precise, effortless steering in all snow conditions.

Unique Center Keel Design:
Center keel features an hour glass design with a concave front to minimize tracking even on frozen, rutted trails.

Outer Gull Wings:
Outer gull wings reduce darting, increase flotation by trapping and compacting snow underneath the ski, and increase turning ability by providing additional steering component surface area.

Carbide Combinations:
Multiple carbide combinations are available to match individual riding styles and snow conditions.
(PN 35-127 Carbide and PN 35-121 Keel Blade. This combination provides the maximum reduction of darting on groomed or hard-packed trails.)

Straight Line Tracking and SLT are Trademarks of Starting Line Products Inc.,
Ski design Patent #5700020, #6012728, and Patents Pending.